I will tell you up front that this review is going to be positive, but there is a legitimate reason for that. And it's not because the product is being manufactured by a team mate and long time friend. It's because the product is made just how I thought it should be made.
FRS and GMRS radios are very common in scenario paintball games, and come in very handy for a variety of reasons, but in the middle of the game, a radio going off can be a dead give-away to your position. It's can also be inconvenient to hold the radio in one hand to operate it, since your hands are usually full of other things. For that reason most players will use some kind of headset, usually consisting of a microphone and earpiece. While a lot of the units sold as accessories for radios will work fine in a lot of conditions, scenario paintball can tend to be harsh on such equipment. Internal wires and flimsy connections often break after relatively little use. Guys on our team have went through any number of set-ups searching for a headset that would last more than just a few games. In an effort to combat some of these problems, Chris Demartini set out to build a more heavy duty headset that would not only last, but function well. His product resulted in the formation of Scenario Enthusiast.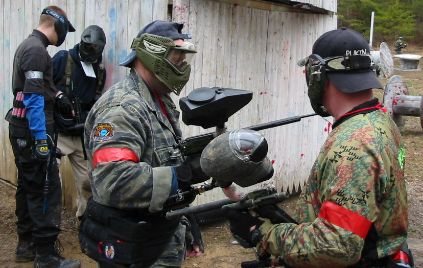 The communication kit sold by Scenario Enthusiast for $29.95 consist of a connected speaker, microphone and push-to-talk switch which can be mounted inside of a paintball mask. Installation is easy, using zip-ties to secure each component in a location preferred by the owner. Heavy gauge wire is used throughout the kit to cut down on the chances of internal breakage which is so common with equipment like this. A heavy duty weather-proof connector allows the user to disconnect when taking off his paintball mask. The main wires are covered in shrink wrap and the external radio connections are coated in plastic for further protection. The connections are currently designed to be compatible with Midland LXT series and Cobra FRS 85 radios. (Scenario Enthusiast also sells a Midland LXT radio for $19.95)
While a lot of off-the shelf headsets require the user to put a small speaker in their ear, I personally find that method uncomfortable, especially after hours of on-field use. I also find the kind of headset worn over the head to be uncomfortable when worn under a face mask, which can be sort of binding. So for me, mounting everything inside the mask was the perfect solution. It's comfortable and convenient to use. I never have to worry about where I put the headset, or if it will get tangled up with other gear, because it's always right there in my face mask.
I have the push-to-talk switch mounted in the front of the mask, where it's easily accessible. The switch is plenty big and easy to find. The speaker for the ear transfers a lot of volume when compared to other units
I have tried. In fact, I have to turn the volume control on my radio down, where with other units I usually had to run at max volume. The rather over-sized microphone seems to work well mounted in the front of the mask. The audio transmissions I have heard from other team members using the system are very clear.
To me, the most important aspect of this kit is the heavy gauge wires, covered in shrink wrap. They are not extremely flexible, but this means they are less likely to fly all over the place and get hung on everything in sight, which translates less likelihood of damage. I keep my radio in a pouch on a tactical vest, but the standard 2-foot length of the wires allow the user to keep a radio in a pants pocket or on a belt.
Yes, I like this product, but that's only natural since I had some input on how it was designed. After years of going through different configurations and products, I finally feel like I have something that will work for the long haul. For me, the durability and the fact that it's designed to be used the way I am using it gives me some peace of mind and that makes this product worth the price.Check out our article about the LCT Paintball's Grenade Refilling Kit.